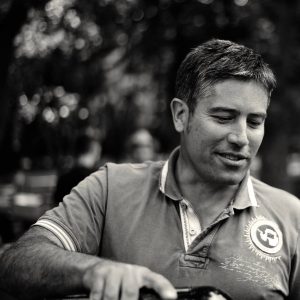 An Idea of wine
To give full expression to the different characteristics of his wines, all the vines are organically grown since 1998 and certified biodynamic since 2010. Guillaume doesn't use any synthetic chemicals and he respects and protects the ecosystems in each of his plots.
He came a long way because the soil had not been worked for for 30 years. It was hard to break the surface and the vines did not understand why he started cutting their surface roots that had been left undisturbed for a long time. He is currently working the soil surface to a maximum depth of 5 cm, to remove the weeds at the base of the vines.
After the harvest, in October and November, the soil is loosened to a depth of 25-cm to allow winter rains to replenish water stocks.
By working the soil in the vineyards, respecting the balance of fauna and flora, and refusing to use industrial yeast and miracle wine products, he produces wines that are a true expression of their land.
Today, yields are more or less regular if limited because together with the strict selections of raisins, we guarantee en ecxellent quality of the wines.
The soil has never been in better condition. The return of many species of plants and insects contribute significantly to the balance of the land. Indeed, allowing the grass to grow naturally between the rows with only one mowing before the harvest, has allowed many species to develop.
The vineyard has been rejuvenated with new plantations. Guillaume has replanted 30 ares of Pineau d'Aunis, a grape variety which had been forgotten and denigrated in the Saumur region.
All wines are made in line with sensible, traditional and, above all, sustainable agricultural practices.
I am proud being a biodynamic winemaker.